Okay, I did it. Everyone told me they were doing it and it was fun and convenient, but I stuck to my morals and said no. Then more people told me about the reasons they were doing it and I thought about it, but still I didn't cave. I wasn't going to do it, but I did it and now I'm glad so there! In reality I had Rob do it which is really like me doing it anyway, but why split hairs?
We signed up for
NetFlix
. Really, I have a good excuse. First, I didn't want to because I love supporting
That's Rentertainment
, our local cycling advocate owned rental store. Well, while the selection for pretty much anything (including cycling movies) is great, they are lacking in educational movies for kids. We just supplemented with the library, but even their selection is lacking. Second, it cuts down on trips to the rental store. With cold weather fast approaching it will be nice to curl up for a movie on the computer now and then and not so fun to go biking to the rental place. We won't be giving up our local store, just doing the NetFlix thing too. (I feel like we are so cheating.)
Soooooo, I have two movie reviews for you, neither of which were available locally from non-chain stores.
Monday Movie Review:
Starter for 10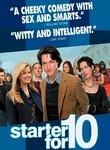 This was Rob's pick. I'll tell you a secret, he is a sucker for cute romantic films. He really is much more of a romantic than I am and I think it annoys him that I'm so jaded, but what can I do? We both enjoyed this film and I have to admit it was pretty cute. It had good acting, nice supporting characters, and although it was a little predictable, there were parts which were not formulamatic. I also like characters who are not all "good", "bad", "perfect", but more real and these characters fill that bill. It is nice to smile so much during a movie. It is rated PG-13, but it was pretty tame all in all.
Really Wild Animals: Totally Tropical Rainforest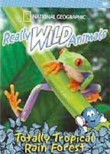 Parker (7) really enjoyed this movie and gives it a thumbs up (I was going to have him review it in his own words, but he must play outside with his friends right now). He learned some things from it and both the kids laughed a lot. They wanted to learn more about several animals in the movie so it opened up my performing internet searches and looking up books at the library which I really like in a kid's movie. The kids couldn't stop telling people the facts they learned (like some piranhas are vegetarian!). I could do without some of the jokes, but the Parker likes to repeat the silly jokes too so I won't complain (he is entering his "goofy boy years" and I'm not good with goofy). I think I'll look for more in this series.
Have you ever...
gone to the store leaving your home sick from work husband and bought
Edward & Sons Unsalted Plain
Brown Rice Snaps
, come home, looked in the fridge to find the left-over
Chickpea Not Tuna Salad
is not there when the only reason you bought the gosh darn Unsalted Plain Brown Rice Snaps was for those specific left-overs and realized you poor sick husband ate it while you were gone so you can't really get upset with him ('cause he is sick and all), but you are crunching on Unsalted Plain Brown Rice Snaps which taste really, well, unsalted and plain at the moment without any
Chickpea Not Tuna Salad
on them, and find yourself resenting said sick husband anyway? What did you do?
Well, I decided to heck with resentment and the fact that my kitchen was a mess and I was supposed to be
cleaning
it instead of making more of a mess and made
more
Chickpea Not Tuna Salad
(this time with an added tablespoon of roasted pumpkin seeds which wasn't bad by the way) since the recipe is so simple (especially since I changed it to use only a tablespoon, bowl, and immersion blender) you could make it with one hand holding a baby tied behind your back (she wasn't actually tied behind my back, settle down folks, although I could have freed up my hand and tied her on my back using a wrap, but then she couldn't nurse through the entire thing). Maternal bliss still in tact and divorce discussion avoided.
Thank goodness for paragraph-long sentences which are okay in the blogging world and super duper easy recipes when you are nursing 'round the clock and get hungry at the drop of a nursing bra.